Leaders make choices, managers take decisions
Choosing to quit smoking is one thing, deciding not to have that cigarette is another. Chasing is a lifestyle choice, an orientation that is going to make your life better. Decisions is picking one among several options at any one time.
For example, we're told that the most important choice we make to our future happiness is the quality of our relationships. Deciding to calm things down with a family member that drives you nuts or, conversely, deciding to ghost someone from your life because they constantly bring you down – even if they have real power over you – these are decisions you need to make to be consistent with your choices.
As a leader of any business, the choices you make on a very, very short list, (with some luck thrown in) determine success or failure. Choices on:
Which customers to follow, work with, listen to?
What next product to develop for which audience?
Which financial backer to go to?
Which leaders to promote within the ranks?
Which technological partners to develop and explore with?
Which competitor to compete against?
Where to get information from and how to learn?
Choices on this handful of dimensions make or break the business. But making these choices is only half the battle, because now the entire company will ask you to decide against them.
Surely we want to choose customers who have a future, who appreciate what we do for them and who let us make some money. But these customers are hard to find, and it would make the sales guy's life's much easier to fill his objectives if you accepted the price discount he's suggesting for a customer you don't want, but that would fill the order intake when we have no better prospect at the moment.
Surely we want to promote someone from the ranks when someone leaves to grow the company culture and show all others there is room for progress, but it would make the HR director's life's (and other managers') much easier if we went outside for an executive search to bring in someone we don't know with a nice ties and not so many warts we know only too well because we know the people we've been working with intimately.
This is an endless war waged between choices to get us up the hill to competitive advantage and decisions to take us down the path of least resistance, to being average. Think of product design: product choices are unavoidably marred by all the many decisions taken to turn the product into what it already is – more of the same.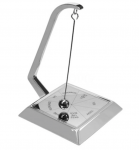 I'm not suggesting we should be rigid on choices, of course there are compromises to be made, every time. But we need to know these ARE compromises, not "the right decision to take at the time."
Who you are in the end is a compromise between the choices you've made and the decisions you've taken. And yes, a fair bit of luck. But it's helpful to distinguish between those two and ask on specific issues:
What is the choice we've made on the matter?
What is the decision the business is pushing us to make because it's more convenient?
What reasonable compromise is there to be found?